Extraordinary Reach. Extraordinary Results.
With such a valuable asset, the journey to "SOLD" can be emotional and mentally taxing. We will lead and guide you through the numerous strategic initiatives that must be addressed to pave the way to a successful sale—from digital marketing strategy, remodeling/upgrading, pricing, pre-market exposure, agent outreach, open houses, to many more.
Innovative Marketing
Our marketing and selling strategy sets me apart from the rest. The journey to sell your home is 100% about YOU. We're here to strategize and listen to your needs and goals so we can best help you achieve them! We 💖 guiding and advising our clients from day 1 until years after the closing day.
How To Sell Your Home Faster
Are you thinking about selling your home, or are you in the process of doing so? Learn what can you do to make sure you attract as many potential buyers as possible and increase your chances of making as much money as possible from the sale of your home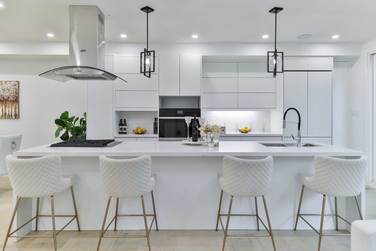 How To Sell Your Home Faster
Free Seller's Guide
Comprehensive Real Estate
Seller's Guide

"I wanted to share my amazing experience working with Stephanie Cohen- Darin on the Jonathan Darin Te
…
Read More
am while buying and selling a home. Stephanie was AMAZING! We could easily communicate with her when needed. She understood our wants and needs as her client and worked tirelessly to find "the one" for us while ensuring that she sold our home for maximum value. She had a deep understanding of the market and knew all the tips and tricks to get a home in a high demand time. She was patient with our thought process and walked us through selling one home and buying another. We never doubted that she had our best interests in mind. We are so happy in our new home because of Stephanie's passion for real estate and understanding of our family's wants, needs, and dreams. Stephanie has our highest recommendation. We couldn't imagine going through this process without her!"
Read Less

"I couldn't be happier with the outcome of hiring Jonathan and his team with Coldwell Banker. He was
…
Read More
a constant professional throughout the whole process. He takes the time to get to know you and understand what you are looking for in your new home. Jonathan gave us advice, gave honest feedback, and was available at all hours in the day. I would definitely recommend to others."
Read Less

"Purchased a home through JD and his team about a year ago. The entire crew went above and beyond to
…
Read More
ensure that we had the very best experience and the perfect home to fit our blended family of 6. It felt like they were helping a family member or a close friend versus a client. The detail and care throughout the process was professional and thoughtful. We are so happy to have our family home!"
Read Less

"Stephanie Cohen-Darin and the Darin team provided me and my family with the best experience on our j
…
Read More
ourney to home ownership. Stephanie was very communicative and educational throughout this process. She was also very friendly and made us feel that she cared about us and wanted to help us find the best home for our lifestyle. We never felt pressured by her and she made sure to fight for us through each and every negotiation. When Stephanie wasn't available (which was extremely rare) One of her other team mates was able to assist us in scheduling showings. This team made my first time purchasing a home a breeze and I would recommend them over and over again."
Read Less

"I worked with Jonathan not only for purchasing my first home, but also selling my mother's home as s
…
Read More
he had recently passed away. From the very beginning, Jonathan made me feel comfortable and well informed with the situation I had going on. He has such valuable insight into the current market and really listened to what I wanted in a home. He ended up helping me to find the perfect fit. He's extremely communicative and no question is too small for him or his team. Even though I was on my own personal time crunch, he never made me feel rushed to make a decision when I was buying or when I was selling. I've heard so many stories from friends and family about how hard buying/selling a home can be but with Jonathan and his team, everything went as smoothly as possible and I couldn't be happier with my decision to work with him. I highly recommend Jonathan and his team whether you're purchasing or selling. They're smart, savvy, and also compassionate to their clients. Can't go wrong with them."
Read Less

"Jonathan Darin represented me on the sale of my house as the listing broker. My house was sold in on
…
Read More
e day at a price much better than I expected. Jonathan was always available to answer my questions and kept me informed throughout the process. I highly recommend Jonathan to anyone who is looking for a good agent to list their house for sale."
Read Less

"I worked with Jonathan in the sale of my parent's townhome. My family and I felt comfortable within
…
Read More
the first few minutes of meeting him. Jonathan was very knowledgeable of current market, gave great suggestions for staging the home and put together a very attractive listing of our townhouse. After speaking with Johnathan, I also found out about how active he is within our community and helps plan events that give local HS students scholarship opportunities. Not only a great relator but someone who cares about his community."
Read Less

"Mike was the BEST! He seamlessly helped us through the buying process. Highly recommend him!"